Recent guest lecturers
Manuel Hassassian
13.12.2021
Related pictures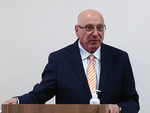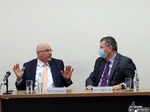 On December 13th, Diplomatic School of Armenia hosted Doctor Manuel Hassassian, Palestinian ambassador to the Kingdom of Denmark. He delivered a talk entitled "Israeli-Palestinian Conflict: The Current Situation and the Armenians of Palestine" for diplomats of the MFA and students of the Diplomatic School. Ambassador of Palestine to the Holy See, Issa Kassissieh, also attended the meeting.
Ambassador Hassassian spoke about the Israeli-Palestinian conflict, the mutual perceptions and misperceptions of the conflicting sides, the Palestinian perspective of the conflict, the current state of Palestinians, the high sensitivity of security issues for Israel and problems arising from it. The speaker also talked about the parallels between the fate of the Palestinian and Armenian peoples, the current state of Armenians living in Palestine, the historical presence of Armenians and the Armenian Church in the Holy City of Jerusalem.
Ambassador Hassassian and Ambassador Kassissieh donated copies of Varsen Aghabekian's book, "A Palestinian Armenian. The Intertwine between the Social and the Political".