News / Announcements
"A Heritage in Danger: Artsakh" Exhibition
11.05.2021
Related pictures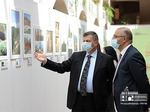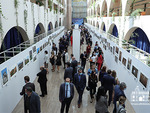 On April 24, the solemn opening of the exhibition "A Heritage in Danger: Artsakh" organized under the auspices of the Cultural Diplomacy Committee under the Ministry of Foreign Affairs was held at the lobby of Yerevan Municipality.
High-ranking Armenian officials, leaders of the Armenian Apostolic Church, high-ranking foreign delegations that have arrived in Armenia, as well as heads of the diplomatic missions accredited in Armenia and others attended the event.
The exhibition included more than 120 photos representing the historical-cultural and religious heritage of Artsakh, books published in Shushi, manuscripts and carpets created in Artsakh.
The exhibition is based on the photographs of Vahe Gabrielyan, Director of the Diplomatic School of Armenia and also includes photos from the archives of the Mother See of Holy Etchmiadzin, the Foundation for Research on Armenian Architecture, the archives of monument expert Samvel Karapetyan, the Matenadaran, Davit Hakobyan, David Ghahramanyan, Levon Episkoposyan, Paul Mellor, Sasun Danielyan, Anush Ghavalyan, Vahram Tatikyan and Vladimir Gevorgyan.
The exhibition will also travel to other countries.
Please see media coverage of the exhibition "A Heritage in Danger: Artsakh" below:
https://armenpress.am/arm/news/1050079.html
https://armenpress.am/arm/multimedia/slideshows/64600/
https://www.panorama.am/am/news/2021/05/01/%D5%8E%D5%A1%D5%B0%D5%A5-%D4%B3%D5%A1%D5%A2%D6%80%D5%AB%D5%A5%D5%AC%D5%B5%D5%A1%D5%B6/2495213
https://mediamax.am/am/news/karabakh/43026/?fbclid=IwAR0-HthIs_Ta0jIwU9xkusRoH-P761D5ncN438CoY0DSjDNl5FQkNhhM0KA
https://www.youtube.com/watch?v=dsbXTrRUdJw
https://www.youtube.com/watch?v=zUxmhq2njyw