News / Announcements
Completion of the "Mid-career training" programme 2020
21.12.2020
Related pictures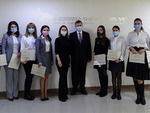 On December 21st, the graduates of the Diplomatic School's three-month "Mid-career training" programme of 2020 received their graduation certificates.
This programme of the Diplomatic School is designed for diplomats working at the MFA headquarter and officials from different public agencies responsible for external relations.
Certificates were handed to the graduates by the Director of the Diplomatic School of Armenia, Ambassador Vahe Gabrielyan, who congratulated them and expressed confidence that the knowledge obtained during the programme will be useful in their daily activities and will contribute to their further professional achievements. A fruitful discussion took place between the participants of the programme and the staff of the Diplomatic School on the inclusion of subjects in the programme relating to the recent challenges and on the coverage of new topics.