News / Announcements
Workshop on Science Diplomacy
03.05.2018
Related pictures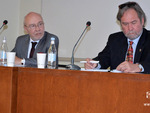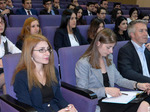 On May 3th, a workshop on "Science Diplomacy" was organized at the American University of Armenia, by the initiative of the Diplomatic School of Armenia. The topic was presented by international experts of the field Professor Luk Van Langenhove, an expert in Science Diplomacy and how it is practiced in the European Union's policies, working at the universities of Brussels and Warwick and Mr. Daryl Copeland, a former Canadian diplomat and trainer who is currently providing training modules on Science Diplomacy in the Diplomatic School of Armenia.
In their opening remarks the Director of the Diplomatic School, Ambassador Vahe Gabrielyan and the President of the AUA, Dr. Der-Kiureghian, underpinned the importance and opportunities of a new discipline for Armenia and Armenian Diplomacy.
Case studies and lessons learnt from countries of the European Union, North America and Asia, were presented for analysis and the potential for Armenia was explored by the panel in an interactive session with the audience, moderated by Ambassador Gabrielyan.