News / Announcements
DS Director's participation in international events dedicated to Science Diplomacy
16.10.2022
Related pictures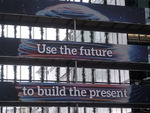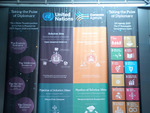 From October 12-15, Ambassador Vahe Gabrielyan, Director of the Diplomatic School of the MFA of Armenia, participated in the international meeting of the Foreign Ministry Science and Technology Advisers Network (FMSTAN) and the 2022 Geneva Science and Diplomacy Anticipation Summit in Geneva.
Representatives of fifteen countries met to discuss the challenges that science diplomacy faces today, to exchange best practices in science and technology advisory capacity building.
More than 150 speakers representing 46 countries of the world spoke at the Geneva Science and Diplomacy Anticipation Summit (GESDA) and more than 1000 officials and representatives of academia participated in-person or online in its 21 sessions. Of particular interest at the summit was the 2022 GESDA Science Breakthrough Radar, a tool that provides an overview of science trends and breakthrough predictions at 5, 10 and 25 years in 37 science and technology merging topics.