News / Announcements
Meeting with the Charge d'Affaires of the Republic of Iraq to Armenia
22.12.2022
Related pictures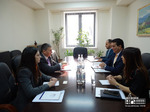 On December 22th, Ambassador Vahe Gabrielyan, Director of the Diplomatic School of Armenia, met with the Charge d'Affaires of the Republic of Iraq to Armenia Dr. Suhailan M. Khaleel Al-Joubouri.
Dr. Al-Joubouri had a tour of the premises of the School, got acquainted with its activities and academic programmes.
Perspectives of cooperation and implementation of joint projects between the Diplomatic School of Armenia and the Foreign Service Institute were discussed during the meeting.