News / Announcements
International Forum on Diplomatic Training
12.09.2017
Related pictures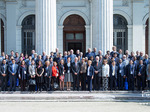 From the 6th to the 9th of September, the Director of the Diplomatic School of Armenia, Ambassador Vahe Gabrielyan participated in the 44th meeting of Deans and Directors of Diplomatic Academies and Institutes of International Relations (known as IFDT, International Forum on Diplomatic Training), hosted in Santiago by the Diplomatic Academy of the Ministry of Foreign Affairs of Chile.
The forum was attended by representatives of around 50 institutions of diplomatic training from all continents that came to Santiago to discuss new trends and challenges in educating future diplomats.
"Diplomatic Training on the Content and Implementation of the 2030 Agenda for Sustainable Development" was the main topic of the Forum.