News / Announcements
03.05.2018 • Workshop on Science Diplomacy
On May 3th, a workshop on "Science Diplomacy" was organized at the American University of Armenia, by the initiative of the Diplomatic School of Armenia. The topic was presented by international experts of the field Professor Luk Van Langenhove, an expert in Science Diplomacy and how it is practiced in the European Union's policies, working at the universities of Brussels and Warwick and Mr. Daryl Copeland, a former Canadian diplomat and trainer who is currently providing training modules on Science Diplomacy in the Diplomatic School of Armenia. In their opening remarks the Director of the Diplomatic School, Ambassador Vahe Gabrielyan and the President of the AUA, Dr. Der-Kiureghian, underpinned the importance and opportunities of a new discipline for Armenia and Armenian Diplomacy. Case studies and lessons learnt from countries of the European Union, North America and Asia, were presented for analysis and the potential for Armenia was...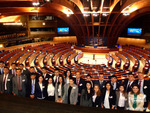 03.05.2018 • Students of the Diplomatic School of Armenia visited EU institutions, International Organisations and Diplomatic Missions of Armenia in Strasbourg and Brussels.
From 22 nd till 28 th of April, the students and the staff of the Diplomatic School of Armenia, led by the Director, Ambassador Vahe Gabrielyan, visited Strasbourg and Brussels. The annual study visit to European structures was included in the programme of the Diplomatic School since 2013. In addition to the visits to the EU institutions and NATO this year students also had meetings in the Council of Europe and the European Court of Human Rights. On 23 rd of April students visited the Council of Europe where they were introduced to the overall activities of the organisation and had the opportunity to be present at a session of the Parliamentary Assembly of the Council of Europe. On 24 th of April at the European Court of the Human Rights the Diplomatic School students were briefed about the institution by an Armenian lawyer which was followed by an inquisitive question and answer session In Strasbourg, future diplomats were also hosted by the...