News / Announcements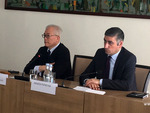 05.03.2018 • The Special Advisor to the Cabinet of PM, Dr. Tomohiko Taniguchi at the Diplomatic School
March 5 th , the Diplomatic School hosted Mr. Tomohiko Taniguchi, the Special Advisor to the Cabinet of Prime Minister Shinzo Abe . Dr. Tomohiko Taniguchi spoke about Japanese foreign policy challenges and perspectives, and possibilities of cooperation between Armenia and Japan. The lecture was followed by a questions and answers session and was moderated by Deputy Foreign Minister Armen Papikyan.
05.03.2018 • The beginning of the 2018 mid-career training program
On March 5 th , the 2018 "Mid-career training program for diplomats and officers in charge of international affairs at public agencies" launched at the Diplomatic School. The lectures are delivered by high-ranking officials from the Ministry of Foreign Affairs and other respective government agencies, as well as by leading lecturers and trainers from Armenian and foreign educational institutions. The two-month certificate program is annual and runs already for the fourth time. It is aimed at updating the participants' knowledge on the Armenian foreign policy agenda, as well as developing certain professional practical skills. The first class of the course was "The activity of Armenian Church: challenges and realities", which was delivered by the Head of Protocol and International Relations Department of the Armenian Church Natan Archbishop Hovnannisyan.