News / Announcements
The Director of the Diplomatic School participates in the 46th Forum on Diplomatic Training (IFDT)
23.09.2019
Related pictures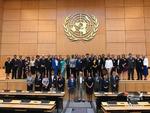 From September 18 to 21, the Director of the Diplomatic School, Ambassador Vahe Gabrielyan participated in the annual meeting of the Deans and Directors of Diplomatic Academies and Institutes of International Relations, the 46th Forum on Diplomatic Training (IFDT). Directors of diplomatic training institutions from around 50 countries took part in the event. This year's meeting, which was co-hosted by the Graduate Institute Geneva (Graduate Institute of International and Development Studies) and UNITAR (United Nations Institute for Training and Research), was a high level dialogue on diplomatic training devoted to the skills, knowledge, and talents needed by multilateral diplomats in 2030.
The speakers included Ms Tatiana Valovaya, Director-General of the United Nations Office at Geneva, Dr Francis Gurry, Director General, World Intellectual Property Organization, Mr Filippo Grandi, UN High Commissioner for Refugees, UNHCR
Ambassador Christian Dussey Director, Geneva Centre for Security Policy, Mr Nikhil Seth, United Nations Assistant Secretary General, Executive Director UNITAR, Mr Vincent Subilia, General Director, Geneva Chamber of Commerce and others.
The forum discussed the role of institutions of diplomatic training in transferring knowledge and skills in multilateral diplomacy and the contemporary tools for achieving that goal.