News / Announcements
Ambassador of the Federative Republic of Brazil in Armenia, H.E. Mr. Agemar de Mendonça Sanctos at the Diplomatic School
13.02.2018
Related pictures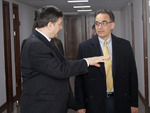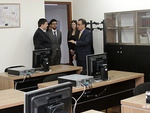 On February 13th, the Diplomatic School hosted the Ambassador of the Federative Republic of Brazil in Armenia, H.E. Mr. Agemar de Mendonça Sanctos.
On his first visit to the School Ambassador Sanctos learned about its activities, discussed possibilities of cooperation between the Diplomatic School of Armenia and the Rio Branco Institute (Diplomatic School of Brazil), in line with the Memorandum of Understanding signed between the two Institutions in 2016.
Director Vahe Gabrielyan introduced the Diplomatic School to the guest and stressed the importance of such initiatives. The parties discussed a range of possible modes of cooperation.