News / Announcements
Study Trip of DS 2016-2017 Programme Students to Estonia
31.10.2017
Related pictures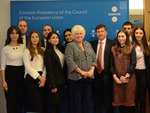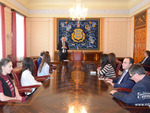 From 23 till 27 of October, students of the Diplomatic School of Armenia of the 2016-17 promotion visited Estonia. They held meetings in Estonia's Ministry of Foreign Affairs, at the Parliament, at the Government, at the Office of the President and in various non-governmental organizations in Tallinn and Tartu.
On October 23th, the DS students visited Estonian ICT showroom, and learned about Estonian experience on E-Governance. The meeting with the Director of the Estonian School of Diplomacy (ESD), Ekke Nomm and the stuff of the School was followed at the ESD.
On 24-26 of October, various meetings with high ranking officials took place at the MFA of Estonia, its Government and Parliament and the Office of the President of Estonia. Among the speakers were Marina Kaljurand, a former Minister of Foreign Affairs, Raul Mälk, a former Minister of Foreign Affairs, and currently the Special Envoy for the Baltic Sea Region at the MFA, Simmu Tiik, former Ambassador to Russia and Norway, Kalle Palling, MP, Member of the Estonia-Armenia Parliamentary Group, Peeter Kuimet, the Security Policy Advisor to the President.
The lectures dwelled upon the challenges and priorities of Estonian foreign policy, the current level of bilateral relations with Armenia, Estonian presidency of the Council of EU, the importance of the ICT for national security and other related topics. On October 25th, the students had an opportunity to meet the Ambassador of the Republic of Armenia in Estonia (residence in Vilnius) Tigran Mkrtchyan and listen to detailed presentation on Armenian-Estonian relations.
In Tallinn the students also visited different cultural, scientific and research centres.
On October 27th, the students of the Armenian's Diplomatic School had a trip to the Tartu, where they visited the University of Tartu and after the short tour, attended lectures by Tartu University professors. In Tartu the students also had an opportunity to visit the National Museum of the Estonia.
The study trip was organized within the scope of cooperation between the Diplomatic School of Armenia and the Estonian School of Diplomacy