News / Announcements
The 43rd annual International Forum on Diplomatic Training
26.09.2016
Related pictures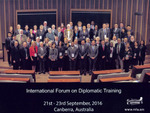 From the 20th to the 23th of September, the Director of the Diplomatic School of Armenia, Ambassador Vahe Gabrielyan participated in the 43rd meeting of Deans and Directors of Diplomatic Academies and Institutes of International Relations (known as IFDT, International Forum on Diplomatic Training), hosted in Canberra, Australia by the Asia-Pacific College of Diplomacy, Australian National University.
The forum was attended by representatives of more than 50 diplomatic academies from all continents that came to Canberra to discuss new trends and challenges in educating future diplomats.
Diplomacy in a non-polar world and cross-regional perspectives, ASEAN diplomacy, global governance and Small Island Diplomacy were the main topics of the Forum.
"The New Pacific Diplomacy", a new book on the challenges and opportunities for diplomacy of the wider region, was launched on the margins of the forum.