News / Announcements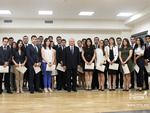 06.07.2016 • Graduation ceremony for the 2015 class
On July 6, a formal ceremony of handing graduation certificates to the 2015 "Diplomacy and International Relations" programme students of the Diplomatic School took place at the Ministry of Foreign Affairs. High-ranking officials of the Ministry, guests and students of the current program also took part in the event. The Minister of Foreign Affairs of the Republic of Armenia, Edward Nalbandian handed certificates to the graduates of the program, congratulated them and wished them success in their further activities.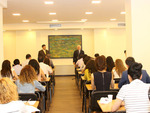 06.07.2016 • Admission exams for the 2016-2017 programme
On July 6, the Diplomatic School of Armenia held the written round of the entrance exams for 2016-2017 "Diplomacy and International Relations" annual program. Starting from the day that the Diplomatic School was established in 2009, this is to be its 7 th intake of future diplomats. The applicants wrote an essay on one of the two announced topics: "The conflict of Nagorno-Karabakh: the summits of May 16 in Vienna and June 20 in Sankt Petersburg" and "The presidency of Armenia in the CSTO". The applicants who pass the exam will be invited to an interview at the end of July. The programme starts in September 2016 and will end in the summer of 2017.